Connecting Your Business to Profits
Here at Nexus Accountants we primarily work with business owners and provide a range of accounting, taxation, business advisory and financial planning services.
We are not your typical suburban accounting firm because our focus is to help you grow your revenues, profits and business value. Over the past 20 years we have developed specialist skills in a number of areas to help our clients starting a business, buying a negatively geared investment property and setting up a self managed superannuation fund. We have also developed expertise in a number of industries and built a reputation as a specialist with real estate agents, veterinary surgeons, importers, manufacturers, plumbers and plumbing suppliers.
Our offices are situated in Malvern in the south eastern suburbs of Melbourne and our clients span a wide range of industries. While our clients vary in size from start ups to businesses turning over millions of dollars they all want to grow their revenue, profits and business value. As a consequence, we have responded to their needs by developing a self managed superannuation fund division and a financial planning arm.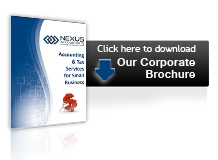 Our dedicated team of accountants are committed to ongoing professional development so you enjoy access to the best technical tax and accounting advice available. We know personal service is important to you so we regularly visit your business premises and no task is too big or too small for the team at Nexus Accountants. We work hard to understand your business and your industry so we can deliver practical, pro-active advice and tax effective solutions.

If you're looking for an accountant who is passionate about your business success contact us today on (03) 9500 8666.

Nexus Accountants - Connecting Your Business To Profits
Latest Blog
Time for a Business Health Check?
15 Aug 2013

The first quarter of a new financial year is the perfect time to conduct a 'health check' on your business to assess what is working in the business and what needs working on.

While the term health check conjures up some pretty negative thoughts for most business owners, I'm not talking about experiencing heart palpitations, I'm suggesting you take a step back and review the direction of your business and your financial goals for the year ahead.

Read More…