Looking to Grow Your Business and Your Profits?
If you're a business owner looking for more than just financial statements and tax returns from your accountant, welcome to Nexus Accountants. Based in Malvern in the south eastern suburbs of Melbourne we are a pro-active and innovative accounting and business advisory firm.
We specialise in helping ambitious business owners succeed and our range of accounting and tax services are both broad and deep. However, it is our services beyond compliance that distinguishes us from other accounting firms. We do more than just keep the score and our focus is to help you build your business and grow your revenue, profits and wealth. Where required, we get involved with your marketing including the development of your website, help you optomise it for Google, video production and advice and assistance with your social media strategies.
Our clients span a broad range of industries and over time we have developed considerable expertise with real estate agents, online businesses, the various building trades, cafes and coffee shops, manufacturers, importers and veterinary clinics. Our knowledge and experience of these industries could give you a serious competitive edge and over the past 20 years we have also developed specialist skills with the establishment and maintenance of self managed superannuation funds and negative gearing of investment properties.



We work with business owners at all stages of the business life cycle from start-up right through to succession and sale. In fact, we have earned a reputation as business start-up specialists having mentored hundreds of business owners through the start-up maze. Our client brief includes helping you cut the cost of compliance so you have more time to work ON your business and your marketing and our business advisory services are cost effective and designed to deliver better financial outcomes. No job is too big or too small for the team at Nexus Accounting.
You have unlimited access to our team including the Principal and our dedicated team of accountants are committed to ongoing professional development so you enjoy access to the best technical tax and accounting advice available. We recognise personal service is important to you so we regularly visit your business premises and we work hard to understand your business and your industry so we can deliver practical, pro-active advice and tax effective solutions.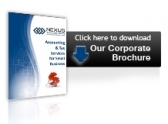 If you're a committed and ambitious business owner looking to accelerate your business success we invite you to book a free, one hour introductory consultation to discuss your business, tax, marketing and financial needs. To book a time call us today or simply complete your details in the box at the top of this page.
Nexus Accountants - Connecting Your Business To Profits